LIPID-BALANCE CLEANSING OIL™
Please note this Medik8 product can take 10-14 days to be delivered
Purifying. Moisturising. Revitalising. This ultra-gentle oil cleanser gently dissolves impurities and waterproof make-up to reveal radiant, refreshed skin. Perfect for even the most sensitive skin types, the nourishing formula features an optimised ratio of essential lipids to replenish the skin's natural defence barrier. This leaves the complexion soft, supple and protected from everyday irritants. At the same time moringa seed extract helps to remove the build-up of daily pollutants, leaving skin perfectly purified. The perfect start to your morning and evening skincare routines.
NO ARTIFICIAL FRAGRANCE
NO SYNTHETIC COLOURS
PARABEN FREE
NO PHTHALATES
VEGAN FRIENDLY
ALCOHOL FREE
ZIPPER DONATION
CRUELTY FREE
Compare
lipid-balance-cleansing-oil
It doesn't get smoother than this silky oil cleanser. Soft as cashmere, it melts seamlessly into skin, then transforms with water into a milky emulsion that rinses away for a beautifully supple complexion. Safflower oil gently nourishes and smooths as it's massaged into the skin. Vitamin E hydrates and protects to restore vitality and bounce to the complexion. Skin is left cleansed and restored, without feeling tight or dry.
Carthamus Tinctorius (Safflower) Seed Oil, Olea Europaea (Olive) Fruit Oil, Sorbeth-30 Tetraoleate, C12-15 Alkyl Benzoate, Ethyl Linoleate, Beta-Carotene, Tocopherol, Moringa Oleifera Seed Oil, Daucus Carota Sativa (Carrot) Root Extract, Citrus Aurantium Dulcis (Orange) Peel Oil, Ascorbyl Palmitate, Daucus Carota Sativa (Carrot) Seed Oil, Helianthus Annuus (Sunflower) Seed Oil, Pelargonium Graveolens (Geranium) Flower Oil, Limonene, Geraniol, Linalool.
* Although we try our best to ensure this list of ingredients is accurate however there may be product upgrades from time to time, or slight variants between different regions based on local laws, meaning the only definitive ingredient list is that which is printed on the product packaging.
Gently massage into dry skin. Add warm water to emulsify into a milk and continue to massage. Rinse thoroughly and pat face dry.
Expert Knowledge
STRAIGHT FROM THE LAB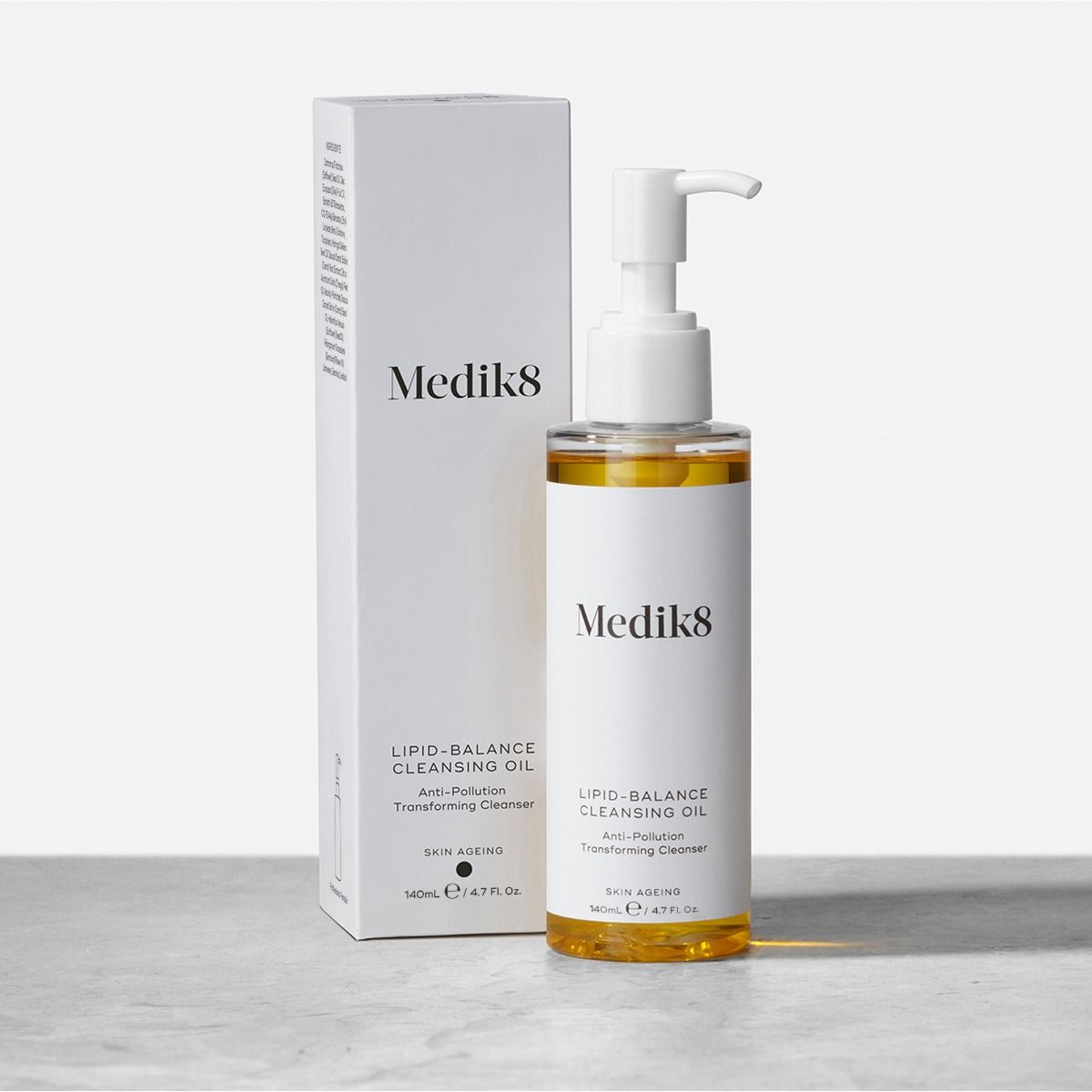 How it works
The upper layers of the skin are made up of skin cells surrounded by a sea of oil-soluble lipids. Made up of fatty acids, cholesterol and ceramides, these lipids help to keep the skin's essential barrier from letting out water and letting in irritants. Linoleic acid, or omega-6, is an essential fatty acid which cannot be synthesised by the skin, but plays a very important role in maintaining the skin's barrier. Often dry or acne-prone skin types are deficient in linoleic acid levels in the skin. Lipid-Balance Cleansing Oil contains an optimised blend of fatty acids with an excess of linoleic acid to help rebalance the skin for a nourished and healthy-looking complexion. Based on safflower oil, which is made up of more than 70% omega-6, the formula also has a shot of extra linoleic acid to rebalance the skin. Meanwhile, vitamin E neutralises damaging free radicals which can accumulate throughout the day, while moringa oil gently whisks away harmful pollution particles. Oils dissolve in oil, so even stubborn oil-based waterproof make-up doesn't stand a chance against this effortless cleanser.
Key ingredients
Safflower Oil – Cold pressed and made up for more than 70% omega-6, safflower oil is rich in nourishing fatty acids and vitamin E.
Omega-6 – Also known as linoleic acid, an essential fatty acid which your body cannot synthesise on its own. Omega-6 helps to rebalance the skin's lipid levels to encourage a healthy complexion.
Vitamin E – Essential in our bodies for cell protection, vitamin E is an oil-soluble antioxidant that can protect the lipid parts of the cell from free radical attack.
Moringa Extract – A natural cleanser and next-generation antioxidant, moringa extract draws dirt, impurities and pollution to itself so they can be easily cleansed away.
Related products
PROFESSIONAL TREATMENTS
Boost the results of Lipid-Balance Cleansing Oil
Visit a Medik8 specialist for a detailed skin consultation and experience one of our relaxing anti-ageing facial treatments.
Age Defying Facial
An indulgent age-defying treatment that infuses skin with Medik8 core actives, vitamin C and vitamin A, to reveal a glowing, more youthful appearance.
Age Peel™
A powerful yet gentle chemical peel that targets fine lines, wrinkles and skin imperfections to reveal a restored, youthful-looking complexion.